Hi all.
Hoping someone can put my mind at ease :?:
I am new to all of this, ducks, hatching etc. I have 5 Indian Runner duck eggs at hatching point in my Rcom 10 Pro but I'm struggling to keep the humidity as high as what I have read on many sites. The humidity in my incubator is currently 72% and I can't seem to keep it any higher, 3 of the eggs have pipped but not through the membrane, (1 around 4pm 28.08.22 and the other 2 early this morning 29.08.22). Will the humidity at 72% be ok for them to hatch successfully unaided? I can still hear peeping. Any advice much appreciated, many thanks Fiona.
*Update* 2 have very slightly broken the membrane this afternoon, resembles a tear but not poked out as yet.
**Update** One has hatched successfully around 4.45pm I'm guessing because I flipping missed it after watching most of day
however the first one that pipped hasn't done anything further yet, should I be concerned? Fnally hatched not long after midnight,wow.
***Update*** I now have 3 healthy ducklings with a 4th about to hatch
****Update**** After lots and lots of debating, googling, researching we decided it was necessary to give a little help to #4 due to it's position and zipping at the side of the egg rather than the end it had struggled for 5 hours, the membrane was drying out and sticking so whether we should have or not we chipped away a little of the shell following the cracks itself had created, 30 mins later the duckling broke free itself. Today he/she is feeding and drinking with the other 3 little ones. Some of the membrane was still stuck to it so I've had to clean it's eye, beak and wing on it's right side, a little of the membrane was preventing the eye from opening fully but now it's bright eyed and bushy tailed I'm pleased to say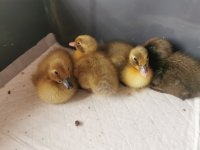 Unfortunately the final (5th) egg was not meant to be but I'm happy that 4 out of the 5 eggs hatched and now have 4 quazy runner ducklings