I'm looking for a new henhouse for our girls. Sadly, I had my first experience with red mite recently and whilst we're now on top of it, and our coop was fine as a starter for our girls I don't think it will withstand weekly pressure washing which I feel the need to do for the foreseeable future (just incase!) and I would like something a little more substantial and sturdy before winter.
We have 4 hybrids, although I would like to add a couple more to the brood in the future.
Our current house is quite basic, here is a pic (from the place we got it, sadly my lawn isn't that neat!):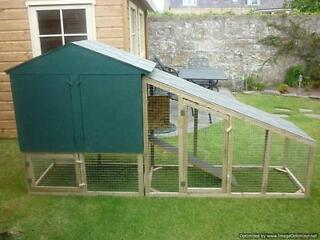 We bought a 2nd run so the run space is double what's in the pic. Our girls free range from 6/7am to dark with the run door open and are then shut in long after they've taken themselves to their perch so the run is just there for first thing in the morning/last thing at night and somewhere to have their water/feed etc. so it doesn't have to be massive but needs to be big enough for them to be happy in for an hour or two in the morning when they're up before me in the summer.
I'm not sure how much I want to spend, however much it costs really (within reason). Some websites online seem to be £300/400 for what looks more aesthetically pleasing than practical. My main problem is that we are an IV postcode which many places class as highlands and islands of Scotland and charge a sizeable surcharge, which isn't helpful. We're between Aberdeen and Inverness.
I've been looking around at local business which make hen houses but no luck so far so if anybody could make any recommendations theyd be much appreciated